Consumer Trust Earned vs Owned vs Paid Media
One of the cornerstones of any communication is trust. When you consider entering in a real conversation with your audience, trust becomes even more important as a baseline. 
This shows the importance of the recent data published by Nielsen in their Global Trust in Advertising and Brand Messages report. It surveyed over 28,000 respondents in 56 countries.
One of the main teachings is the difference in trust between earned vs owned and paid media, in that order.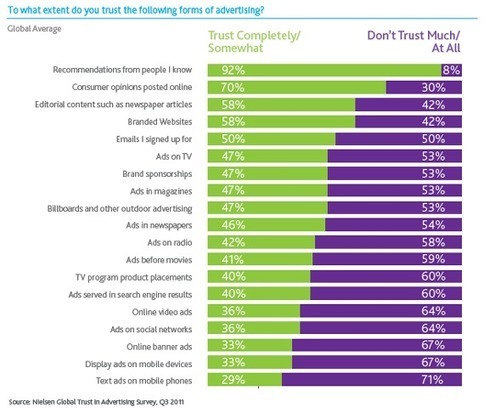 In a time perspective, here is what Nielsen says on their blog:
92 percent of consumers around the world say they trust earned media, such as recommendations from friends and family, above all other forms of advertising—an increase of 18 percent since 2007. Online consumer reviews are the second most trusted source of brand information and messaging, with 70 percent of global consumers surveyed online indicating they trust messages on this platform, an increase of 15 percent in four years.

While the reported consumer trust level in mobile phone advertising is still low, it increased 61 percent since 2007 and 21 percent since 2009.

When it comes to traditional, paid media, while nearly half of consumers around the world say they trust television (47%), magazine (47%) and newspaper ads (46%), confidence declined by 24 percent, 20 percent and 25 percent, respectively, between 2009 and 2011. Still, in 2011, overall global ad spend saw a seven percent increase over 2010, according to Nielsen's most recent Global AdView Pulse. This growth in spend was driven by a 10 percent increase in television advertising.